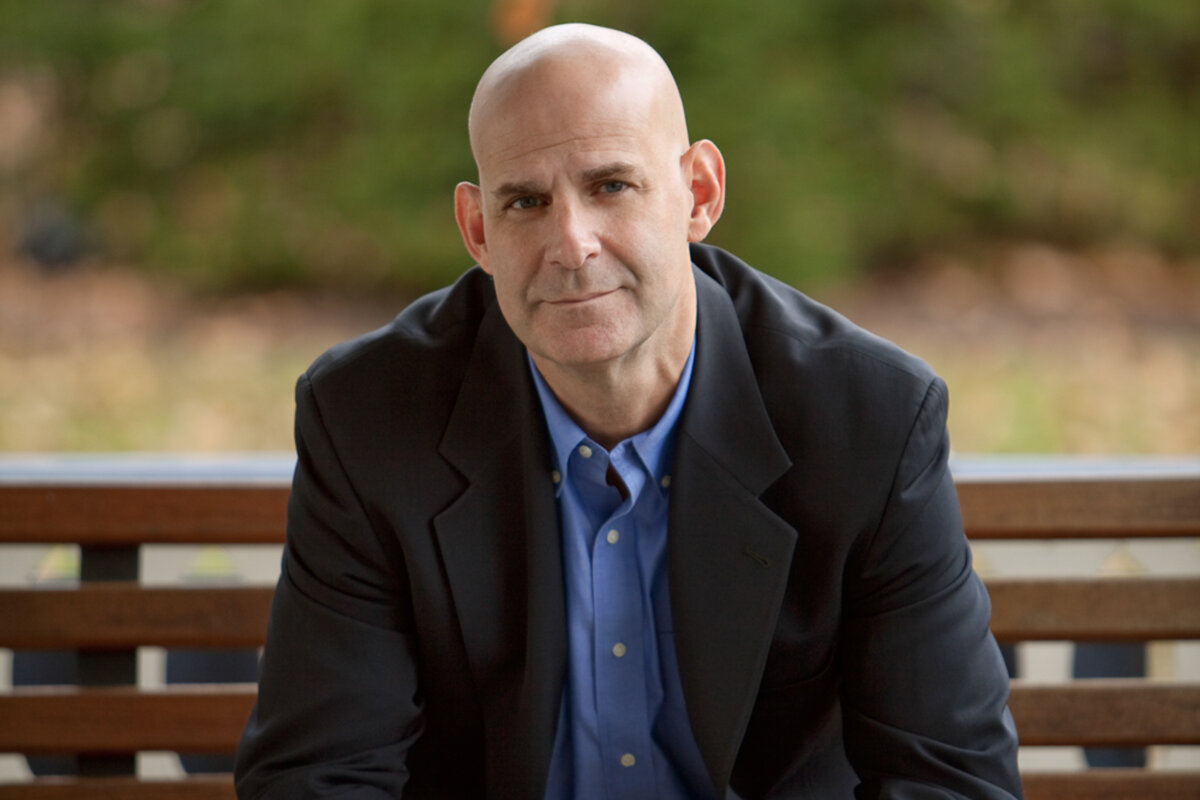 Harlan Cobens varemerke er uoppklarte mysterier fra fortiden som sender sjokkbølger inn i nåtiden. Det er gjerne familierelaterte historier med svært overraskende vendinger. Han er den første forfatteren som har vunnet alle de tre store amerikanske krimprisene: Edgard Award, Shamus Award og Anthony Award.
Pressebilde fra harlancoben.com
Harlan Coben er født 4. januar 1962 og vokste opp i Livingston, New Jersey. Han gikk på Livingston High School og senere studerte han statsvitenskap ved Amherst College, hvor han tilhørte samme studentbrorskap som Dan Brown. Han jobbet i bestefarens reisebyrå før han fant ut at han ville prøve å skrive på heltid.
Hans første bok, Play Dead, kom ut i 1990, etterfulgt av Miracle Cure i 1991. Etter dette begynte han å skrive serien om Myron Bolitar – eks-basketspiller, sportsagent og privatetterforsker. Coben sier at karakteren Myron Bolitar er basert på ham selv, men med «wishfulfillment» – Myron er smartere, sterkere og bedre i basketball. Han har også skrevet en ungdomsserie fra dette universet.
Hans første enkeltstående roman Tell No One kom i 2001 og er den første av hans bøker som det er laget film av. I 2018 signerte han en avtale med Netflix om å lage TV-serier av 14 av bøkene. Han jobber også som produsent for disse seriene. Til sammen har han solgt 75 millioner bøker på over 40 språk.
Coben møtte sin kone Anne Armstrong-Coben på Amherst College. De har fire barn og to hunder. De bor i et gammelt viktoriansk hus i Ridgewood, New Jersey. Anne er barnelege og Harlan jobber enten hjemmefra eller der han finner det for godt – på cafe, i baksetet på en Uber eller på flyplasser.
Harlan Cobens beste skrivetips:
Three things that are important for writing: inspiration (1%), perspiration (do the work) and desperation (I¨m not fit for anything else)
Only writing is writing. Words on paper is all that matters.
All fiction writing comes down to «What if?» You need to have an open mind to ideas, and the good ones will stay with you. Let your mind bounce around and explore these ideas. Maybe find a way to combine two of them.
When I start a book, I have to know the beginng and the end. It's like driving from New Jersey to Los Angeles. Normally I would take Route 80. Chances are I will stop by the Suez canal and Tokyo on the way, but I always end up in LA.
Favorite writing quote: «I try to leave out all the parts you normally skip» (Elmore Leonard).
Don't do research – research is a distraction. Research is more fun then writing and takes away the focus. Don't let anything be an excuse not to write. Always write first, research later.
You have to treat writing as a job, like you were a plumper.
Everybody gets writers block, its a part of the process.
Everybody has imposter syndrome, even best selling authors. Only bad writers think they are good.
The best writing guide: Bird by bird by Anne Lamott.
Bibliografi
Myron Bolitar serien
| | | |
| --- | --- | --- |
| Utgivelsesår | Engelsk tittel | Norsk tittel |
| 1995 | Deal Breaker | Livstegn |
| 1996 | Drop Shot | Harde slag |
| 1996 | Fade Away | En siste sjanse |
| 1997 | Back Spin | Feil side av veien |
| 1998 | One False Move | En venn av familien |
| 1999 | The Final Detail | Siste detalj |
| 2000 | Darkest Fear | Den siste du møter |
| 2006 | Promise Me | På grunn av et løfte |
| 2009 | Long Lost | Dypt savnet |
| 2011 | Live Wire | Ringer i vann |
| 2016 | Home | Hjem |
| 2021 | Win | |
Ungdomsserie (Mickey Bolitar)
| | | |
| --- | --- | --- |
| 2011 | Shelter | Beskytteren |
| 2012 | Seconds Away | Jegeren |
| 2014 | Found | Oppdageren |
Frittstående romaner
| | | |
| --- | --- | --- |
| 1990 | Play Dead | Varsel om død |
| 1991 | Miracle Cure | Mirakelkuren |
| 2001 | Tell No One | Ikke et ord |
| 2002 | Gone For Good | Borte for alltid |
| 2003 | No Second Chance | Ingen ny sjanse |
| 2004 | Just One Look | Når noen bare forsvinner |
| 2005 | The Innocent | Den uskyldige |
| 2007 | The Woods | I den skogen |
| 2008 | Hold Tight | Hold tett |
| 2010 | Caught | Tilgi meg |
| 2012 | Stay Close | Vær hos meg |
| 2013 | Six Years | Seks år |
| 2014 | Missing You | Savner deg |
| 2015 | The Stranger | Den fremmede |
| 2016 | Fool Me Once | Vær på vakt |
| 2017 | Don't Let Go | Ikke gi slipp |
| 2019 | Run Away | Datter savnet |
| 2020 | The Boy From The Woods | Gutten fra skogen |
| 2022 | The Match | |
| 2023 | I will find you | |
På Netflix
| | | |
| --- | --- | --- |
| 2016 (Sky1) | The Five | Engelsk |
| 2018 | Safe | Engelsk |
| 2020 | The Stranger | Engelsk |
| 2020 | The Woods | Polsk |
| 2021 | The Innocent | Spansk |
| 2021 | Gone for Good | Fransk |
| 2021 | Stay Close | Engelsk |
| 2022 | Hold Tight | Polsk |
For mer informasjon: www.harlancoben.com
Reader Interactions