English version below
Har du tenkt over hvorfor vi nordmenn elsker krim i påsken? Dette er nemlig en særnorsk tradisjon som attpåtil er nesten hundre år gammel. Ingen andre land har denne koblingen mellom høytid og krimlitteratur.
Man kan kanskje tenke seg at det er fordi årstiden har en blodig bakgrunn i gamle tradisjoner som bloting som skulle sikre årets avling eller religiøse hendelser som dødsengelens vandring i Egypt og korsfestelsen av Jesus.
Mer nærliggende er det kanskje at krim er lettlest underholdning som man ofte tar med på ferier. Og Norge har den lengste påskeferien i verden. Dessuten er det lite som er mer skummelt enn å lese om drap og uhygge når man sitter foran peisen på en øde hytte høyt til fjells og vinden uler rundt hjørnene…
Men hvordan oppsto egentlig denne tradisjonen med at nordmenn leser krim i påsken? Det sies at det hele startet vinteren 1923 da to unge studenter satte seg ned og skrev en kriminalroman for å tjene penger til det glade studentliv. De het Nordahl Grieg og Nils Lie og under pseudonymet Jonathan Jerv skrev de boken «Bergenstoget plyndret i natt!»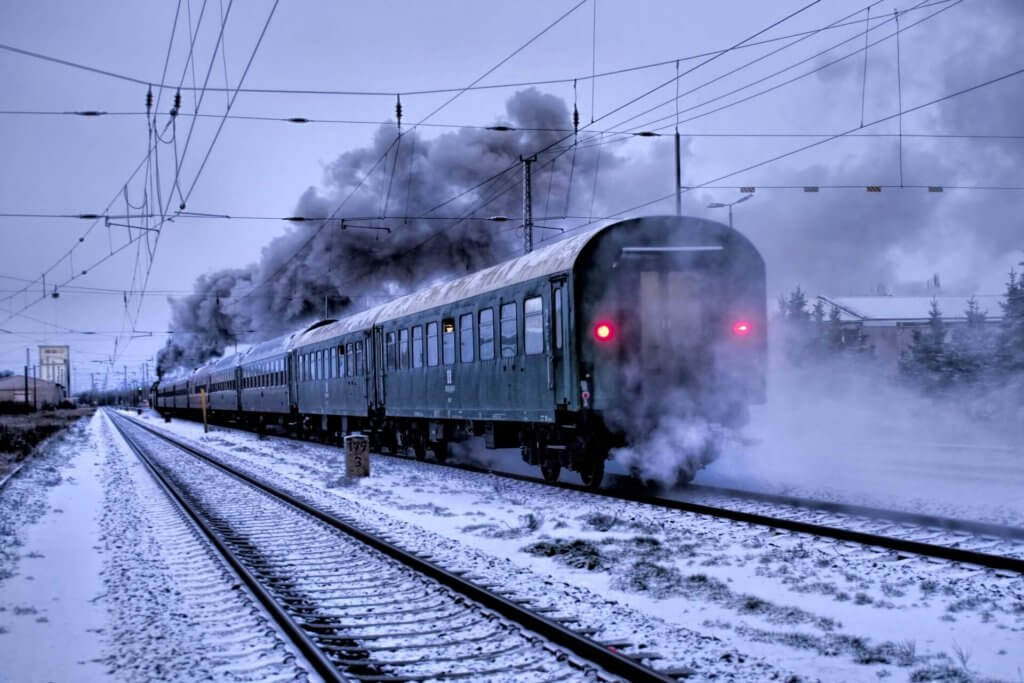 Handlingen var lagt til fjellet i påsken og handlet om noen studenter som ranet toget og unnslapp på ski.
Nå hadde det seg slik at Nordahls bror Harald Grieg var sjef i Gyldendal forlag. Han skal ha ergret seg over at man den gangen bare kunne gi ut bøker om høsten og da han ble spurt om å utgi historien om togranet, så han kanskje sitt snitt til å skape en ny trend ved hjelp av litt utspekulert markedsføring.
Palmelørdag 24. mars 1923 kjøpte han annonseplass på forsiden av Aftenposten. Annonsens tittel «Bergenstoget plyndret i natt» var så iøynefallende at folk trodde det gjaldt en stor nyhetssak. Kun med svært liten skrift kunne man lese «av Jonathan Jerv» og forstå at dette var en annonse for en bok. Redaksjonen ble deretter nedringt av folk som var bekymret for familie og venner ombord på Bergenstoget.
Etter dette ble det vanlig å lansere krimromaner til påske og så utviklet tradisjonen seg til å gjelde kriminalhørespill på radio, krimserier på TV og til og med krimgåter på melkekartongen. Det er vel heller ingen tilfeldighet at Rivertonprisen for beste krim deles ut i mars hvert år.
English version:
The Norwegians read a lot of crime fiction at Easter and this has been a tradition for almost 100 years. They say it started like this:
In February 1923, two poor students called Nordahl Grieg and Nils Lie wrote a crime novel to earn some money. The book was about some students who robbed a train and escaped by skiing down the mountain (many Norwegians spend Easter holiday skiing in the mountains…)
Nordahls brother Harald Grieg was a publisher and back then they could only release new books in the autumn. When the two students asked him to publish their story under the name Jonathan Jerv, he saw an opportunity to start a new sales season for books. He launched the book with a big front page ad in the largest newspaper in Oslo. The date was March 24th and it was the day before Palm Sunday.
The headline was «The Train from Bergen was robbed last night!» This was the name of the book, but the headline was so big on the front page, that the public thought the robbery had accually happened. They started to call the newspaper, worried for their friends and family on board the train.
After this crime fiction was assosiated with Easter, and today Norwegians read lots of crime fiction and watch crime shows on TV as part of their Easter celebration.
Reader Interactions